550 Paracord or parachute cord is another useful tool to keep handy in a "bug out bag" (B.O.B.) or for use in an emergency survival kit. Specifically, 550 paracord is a general purpose utility cord used by the military (i.e. "milspec") and is rated to be able to hold up to 550 pounds.
550 Paracord consists of seven woven strands of nylon cord in a braided sheath and is relatively elastic. It is quick drying, rot resistant, and very durable. In addition to being sold as a bundled pack as shown to the right, it is also sold as a bracelet, lanyard, belt, or as any number of braided accessories.
How to Use Paracord
Below are some of the ways in which paracord can be used:
Shoelace
Clothesline
Tourniquet
Fishing line (inner strands)
Shelter or Awning
Tow rope
Rope substitute
Tie down
Hammock
Sling
Strecther
A 100 foot length is generally $10 or less. And as with many alleged "milspec" products, caveat emptor applies. So make sure you get the real stuff. We purchased ours at Best Glide. Below is a video which shows an easy way to make a paracord fast rope.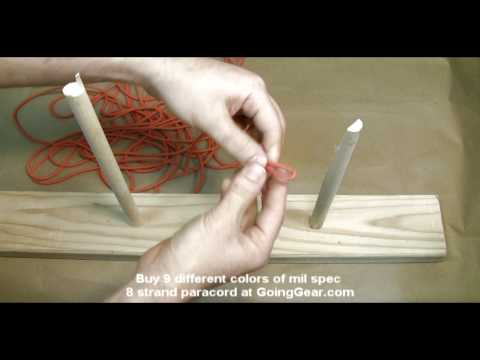 Another video shows how to make a clean cut and secure the ends of the cord.
Tags: Paracord